EVENT SCHEDULES
 Rancho Rialto Weekly Activities 2021-2022
Entertainment and Food 2021-2022
---
YOUR NEW BOARD OF DIRECTORS FOR 2022-2023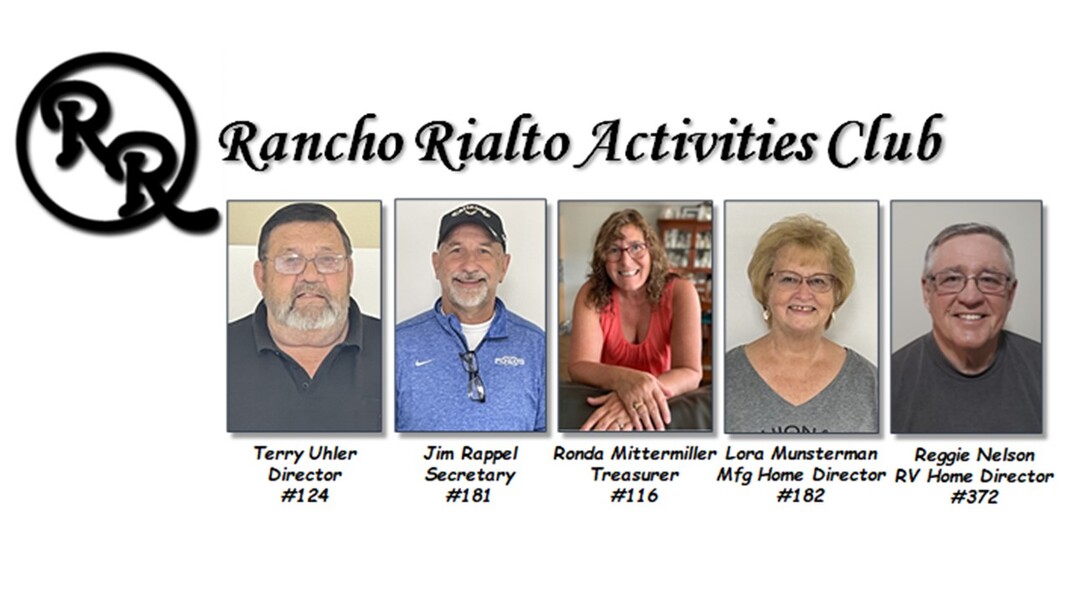 ~~~~~~~~~~~~~~~~~~~~~~~~~~~~~~~~~~~~~~
THE RANCHO RIALTO READERS BOOK CLUB ~ Update 
The Rancho Rialto Readers Book Club will continue to meet on the first Thursday of the month at 2:00 p.m. in the Clubhouse.  This past season we had 5-12 people attend the monthly meetings, and we have plenty of room for more!!  We have recommended and chosen the books for next season.  Included below is the chart with the dates and titles.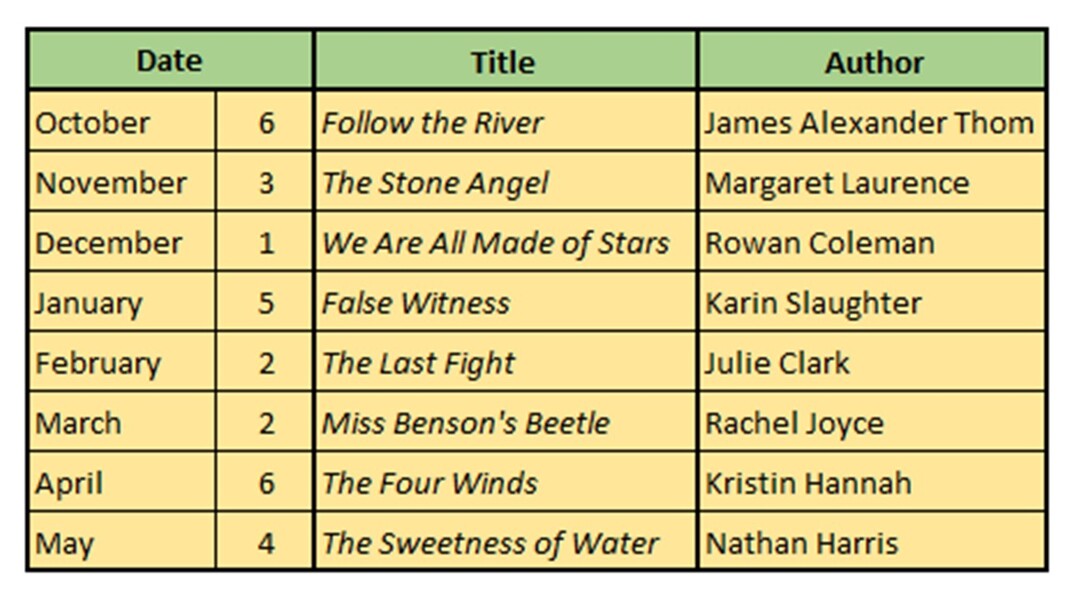 If you have any questions or problems, please let me know. 
Thank you, 
Beth Osowski  #130                                                                                            Book Club Chairperson
~~~~~~~~~~~~~~~~~~~~~~~~~~~~~~~~~~~~~~
A THANK YOU FROM AMBERLY'S PLACE
The following is a thank you note of appreciation from Amberly's Place to our community of Rancho Rialto and our Threads of Kindness group for support of their efforts and mission to assist victims of violence or abuse.
"Dear Rancho Rialto Community & Threads of Kindness,
Thank you once again for your constant and steadfast support of Amberly's Place and the victims we serve.  Your kindness and generosity are incredible."
With Gratitude,
Tori Bourguignon                                                                                    Executive Director
We hope to continue with activities such as this, or others similar, in the future in support of the people and city of Yuma.  
~~~~~~~~~~~~~~~~~~~~~~~~~~~~~~~~~~~~~~
AMBERLY'S PLACE   
On December 12, over fifty Rancho Rialto families combed their cupboards and closets for clothing and household items they no longer needed.  They came very close to completely filling the new truck from Amberley's Place.
Amberly's Place is the only family advocacy center in Yuma County with a crisis team to assist victims of domestic violence, child abuse, sexual assault, and elder abuse.  Sales of these items at the Amberly's Place Thrift Store will support these very needed services.
In addition to nearly filling the truck, Ron Thiesen received cash donations totaling $1,070 from our park residents. 
The following Monday, Ron and Sandra delivered bags, pillows and blankets created and donated by the women of Threads of Kindness, together with their check for $800.  Tori Bourguignon, the Executive Director, was thrilled to receive this check and was over the moon when the second check for $1,000 was presented along with $70 cash!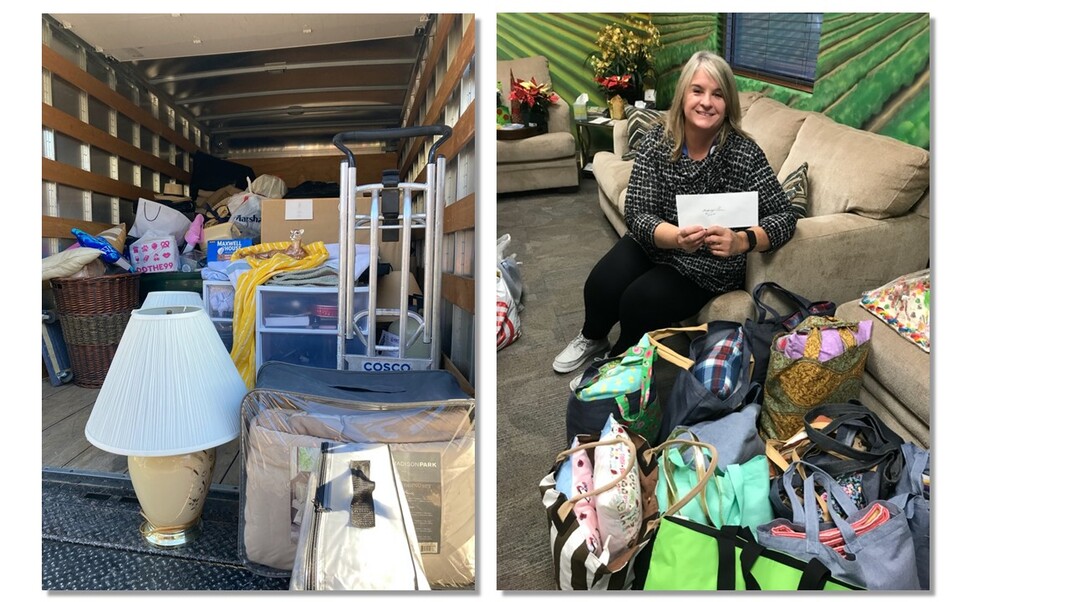 ~~~~~~~~~~~~~~~~~~~~~~~~~~~~~~~~~~~~~~
GREAT WORK RANCHO RIALTO!!!
The Women of Threads of Kindness use the skills and talents they have developed over a lifetime to produce items they can sell in order to be able to make generous donations like the $800 check they presented in December. 
They also work together and at home to make large bags that children and their family members can use to carry life essential items when they must relocate in order to be able to live safely.
Then they fill their cars with the bags and fill the bags with pillows and quilts.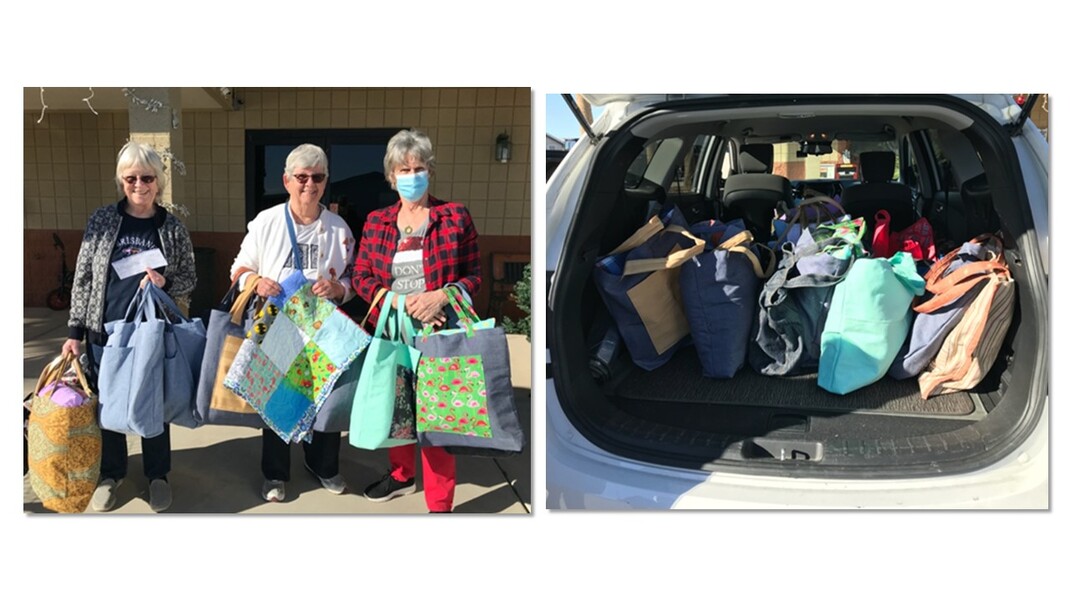 In the spring, some women take fabric home to Canada to be able to make even more bags.
These women deserve a big round of applause for the good work they do all year round.  They make Yuma a better place to live!
The inspiration and organization for Threads of Kindness is a woman named Dixie Hodgson.  She understands that socialization and cooperation are critical to the work that is being done.  Dixie has a gentle way of finding tasks that truly need to be done and has paired the tasks with women who don't sew but want to learn new skills.  It is truly joyful to see women working together to create beautiful quilts, aprons, and other useful items.  Many times these creations are made from scraps and hand-me-downs.
Sadly, Dixie and her husband Don have decided to sell their home in Yuma, so she will be leaving in March.  To honor Dixie and to thank all of the husbands that support the women in Threads of Kindness by toting the bins of fabric and carrying the sewing machines, they celebrated with a pizza and salad luncheon on January 30.
As appreciation for the leadership Dixie provided, they honored her with a custom-made quilt for Don and Dixie to share next winter.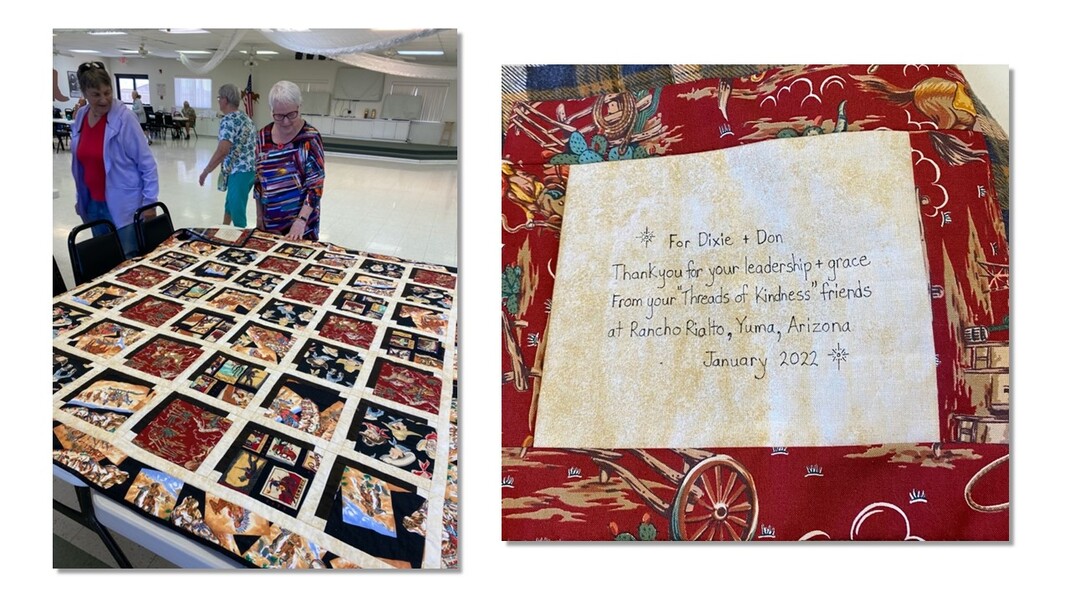 "We'll miss you, Dixie!"
~~~~~~~~~~~~~~~~~~~~~~~~~~~~~~~~~~~~~~
PICKLEBALL COURTS KEEP BUSY
Monday through Saturday at 9 a.m. you can hear the sound of residents playing pickleball.  Pickleball is a paddleball sport that combines elements of badminton, table tennis, and tennis.  It's a sport where you can get your daily exercise, have fun, and meet new people.  It's very popular for all ages, especially our younger residents here at the park.  This past season, with the pandemic, many of our residents who play pickleball couldn't come down, so that made it easier for the US residents to get a court.  In a normal season, many players would have to wait their turn to get a court, so they're hoping for additional courts to be built in the future.  Pickleball continues to become more popular as time goes by.  If you want to play at night, lights are available at the courts.  
Here are some surprising and interesting statistics...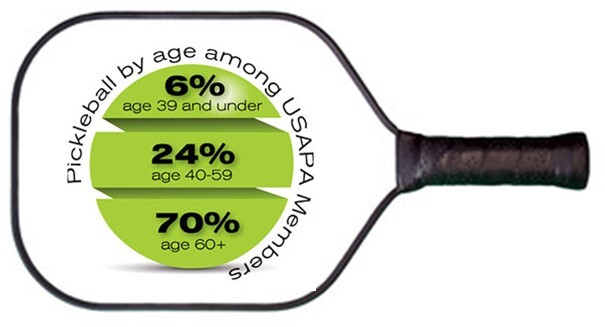 ---