---
PICKLE BALL COURTS KEEP BUSY
Monday through Saturday at 9 a.m. you can hear the sound of residents playing pickle ball.  Pickleball is a paddleball sport that combines elements of badminton, table tennis, and tennis.  It's very popular among our younger residents here at the park.  This past season, with the pandemic, many of our residents who play pickle ball couldn't come down, so that made it easier for the US residents to get a court.  In a normal season, many players would have to wait in line to get a court, so they're hoping for more courts to be built in the future.  Pickleball is becoming more popular as time goes on.  If you want to play at night, lights are available at the courts.  It's a sport where you can get your daily exercise, have fun, and meet new people.
---
The RRAC Board of Directors would like to introduce and welcome the Bingo Committee for 2021-2022.
Linda Hansberry, Bingo Manager, has lived at Rancho Rialto for four years. Linda is eager to work with the other Bingo committee members to bring all Bingo players at Ranch Rialto a fun Thursday evening Bingo starting this November, 2021.  Bingo is regulated by the Arizona Department of Revenue (AZDOR).  Linda is licensed on behalf of RRAC with AZDOR bingo.
Roger Middleton, Proceeds Coordinator, has lived in Rancho Rialto since 2016 with his wife Vicki.  Roger has spent 25 years volunteering as a reserve police officer and is currently volunteering here in Yuma, where he does the reserve officers bookkeeping for the Yuma County Sheriffs Office.  His knowledge of computers will be an asset to the committee.  He is looking forward to serving as Proceeds Coordinator.
Karen Kammerer, Bingo Supervisor, has lived at Rancho Rialto since December of 2019 and loves her new home.  Karen is experienced with AZDOR bingo as she has overseen Yuma East Bingo for three years.  Karen is looking forward to working with the Bingo Committee and residents of Rancho Rialto.
Theresa "Terri" Snyder, Bingo Assistant, has lived in Rancho Rialto with her husband Jim (off and on) from 2005.  They came first in their RV and  eventually purchased a home.  She has helped on many committees either serving dinners and/or helping on outside committees.  Terri is looking forward to serving on the Bingo Committee.
Please plan to join Linda, Roger, Karen, Terri, and the other volunteers in the fall for many great nights of Bingo.
---
CARD OF GRATITUDE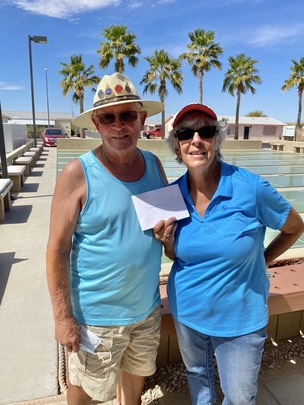 Dawn Cappleman and Marty Busch were given a card of gratitude for their continued dedication to the residents of Rancho Rialto for making sure all those who played Shuffleboard enjoyed the game.  Many new residents, as well as those who have lived here awhile, came out and learned to play.  Marty and Dawn made it possible for all residents who enjoyed Shuffleboard to play three days a week, during the pandemic, when staying away from crowds and people were the norm.  All precautions were adhered to by all.  Marty and Dawn, all your friends at the shuffle board court are very grateful for your help and kindness this season. 
---